Stock photo: Calgary Skyline Sunset Calgary Tower Centre Street Bridge Winter City Of Calgary Alberta Canada
Stock photo of the City of Calgary's skyline at sunset in early Winter after a light snowfall in Alberta, Canada. This picture spans the major portion of buildings that make up this skyline including the Calgary Tower. The Centre Street bridge is seen spa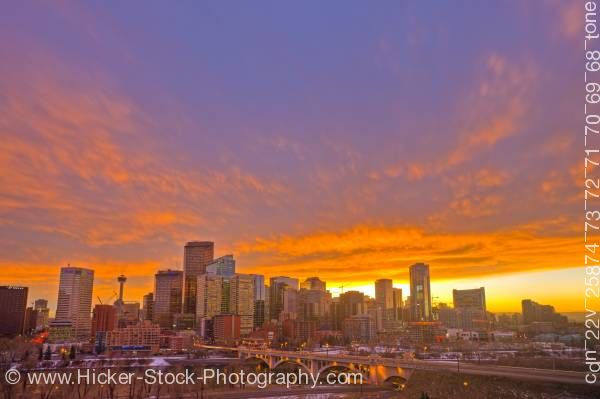 Sunset Over City Of Calgary Skyline Early Winter After Light Snowfall Alberta Canada
Stock Photos from the collection "Winter Stock Photos"


= click to scroll forwards/backwards
Calgary Skyline Sunset Calgary Tower Centre Street Bridge Winter City Of Calgary Alberta Canada
This stock photo contains a stunning sunset with complex cloud formations and hues of blue, orange, and gold, overlooking the Calgary skyline of high-rise buildings, the Calgary Tower, and the Centre Street Bridge spanning the Bow River after light snowfall during early winter in the City of Calgary in Alberta, Canada. Calgary is well-known as a destination for winter sports and ecotourism with a number of major mountain resorts near the city and metropolitan area. Economic activity in Calgary is mostly centred on the petroleum industry; however, agriculture, tourism, and high-tech industries also contribute to the city's economic growth. In 1988, Calgary became the first Canadian city to host the Olympic Winter Games, and one of the fastest long track speed skating ice rinks in the world was built at the University of Calgary to accommodate these Games.
Related stock photo search terms for:
Calgary Skyline Sunset Calgary Tower Centre Street Bridge Winter City Of Calgary Alberta Canada
Title
Calgary Skyline Sunset Calgary Tower Centre Street Bridge Winter City Of Calgary Alberta Canada
Stock photo of the City of Calgary's skyline at sunset in early Winter after a light snowfall in Alberta, Canada. This picture spans the major portion of buildings that make up this skyline including the Calgary Tower. The Centre Street bridge is seen spa
Photographer
Stock photo ID
cdn_22v_25874_73_72_71_70_69_68_tonemapped-ed.jpg - Calgary Skyline Sunset Calgary Tower Centre Street Bridge Winter City Of Calgary Alberta Canada
Country
State
City
Camera Model
Aperture
f/11.0
ISO
50
Focus lenght
16mm