Stock photo: Patrons At Longhorn Saloon And Grill Apres Ski Bar Whistler Mountain British Columbia Canada
Hundreds of patrons seen seated outside the Longhorn Saloon and Grill, an apres-ski bar at the base of Whistler Mountain, Whistler Village, British Columbia, Canada. People dressed in their warm winter clothing enjoy food and drink at tables outside this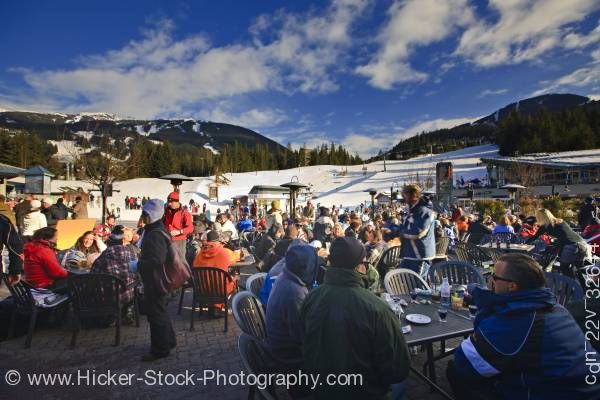 Winter Scene Longhorn Saloon At Base Of Whistler Blackcomb Whistler Village British Columbia Canada
Stock Photos from the collection "Zoology Stock Photos"


= click to scroll forwards/backwards
Patrons At Longhorn Saloon And Grill Apres Ski Bar Whistler Mountain British Columbia Canada
This stock photo includes a large number of patrons outside the Longhorn Saloon and Grill an apres-ski bar at the base of Whistler Mountain, Whistler Village, British Columbia, Canada. Located at the base of Whistler and Blackcomb Mountain Gondolas, the Longhorn Saloon has been the #1 apres ski spot in town for over 25 years. Great Food from the grill, ice cold draught beer & DJ's spinning party tunes create a perfect ending to a day on the mountain, golf course, or after your team sporting event. It is here that you will also find the most televisions to cater to your sporting needs. This is the most popular and convenient place to get refreshments right after you arrive at the bottom of the mountains.
Related stock photo search terms for:
Patrons At Longhorn Saloon And Grill Apres Ski Bar Whistler Mountain British Columbia Canada
Title
Patrons At Longhorn Saloon And Grill Apres Ski Bar Whistler Mountain British Columbia Canada
Hundreds of patrons seen seated outside the Longhorn Saloon and Grill, an apres-ski bar at the base of Whistler Mountain, Whistler Village, British Columbia, Canada. People dressed in their warm winter clothing enjoy food and drink at tables outside this
Photographer
Stock photo ID
cdn_22v_32644-ed.jpg - Patrons At Longhorn Saloon And Grill Apres Ski Bar Whistler Mountain British Columbia Canada
Country
State
City
Camera Model
Exposure time
1/60
Aperture
f/6.3
ISO
100
Focus lenght
16mm