Stock photo: Ski Trail Signs Ptarmigan and Lower Whiskey Jack Whistler Mountain Whistler British Columbia Canada
Stock photo of trail signs for the Ptarmigan and Lower Whiskey Jack ski trails on Whistler Mountain, Whistler Blackcomb, Whistler, British Columbia, Canada. This scene shows snow covered ground looking down the Ptarmigan ski trail, stands of tall evergree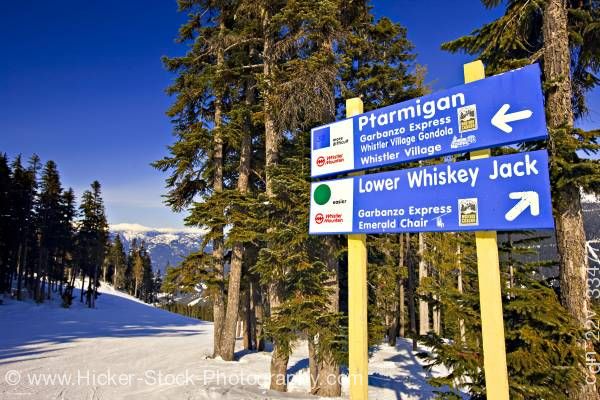 Ptarmigan and Lower Whiskey Jack Ski Trail Signs Whistler Mountain Whistler British Columbia Canada
Stock Photos from the collection "Zoology Stock Photos"


= click to scroll forwards/backwards
Ski Trail Signs Ptarmigan and Lower Whiskey Jack Whistler Mountain Whistler British Columbia Canada
This stock photo includes trail signs for the Ptarmigan and Lower Whiskey Jack ski trails on Whistler Mountain, Whistler Blackcomb, Whistler, British Columbia, Canada. Visiting Whistler Blackcomb during the Olympic year will not only be an exciting and memorable experience but a great time to ski or ride as well. Prior Winter Olympic hosts have experienced an "aversion factor" in the year of the Games and guests stayed away. People assume the mountains will be closed or too crowded or still under construction when in fact, none are the case in Whistler. With fewer guests expected on the mountains, skiers and riders next year will have a minimum of 7,500 acres to explore all season long, with more terrain groomed each night than any other resort in North America, and an annual snowfall average of 33 feet to enjoy.
Related stock photo search terms for:
Ski Trail Signs Ptarmigan and Lower Whiskey Jack Whistler Mountain Whistler British Columbia Canada
Title
Ski Trail Signs Ptarmigan and Lower Whiskey Jack Whistler Mountain Whistler British Columbia Canada
Stock photo of trail signs for the Ptarmigan and Lower Whiskey Jack ski trails on Whistler Mountain, Whistler Blackcomb, Whistler, British Columbia, Canada. This scene shows snow covered ground looking down the Ptarmigan ski trail, stands of tall evergree
Photographer
Stock photo ID
cdn_22v_33477-ed.jpg - Ski Trail Signs Ptarmigan and Lower Whiskey Jack Whistler Mountain Whistler British Columbia Canada
Country
State
City
Camera Model
Exposure time
1/400
Aperture
f/5.6
ISO
100
Focus lenght
22mm