Stock photo: Powder Snow Skier Whistler Mountain Whistler Blackcomb Whistler British Columbia Canada
Stock photo of a skier on the upper slopes of Whistler Mountain, Whistler Blackcomb, Whistler, British Columbia, Canada. This view shows the skier coming down the mountain toward the camera with the snow behind whisked into the air by the skis and a backg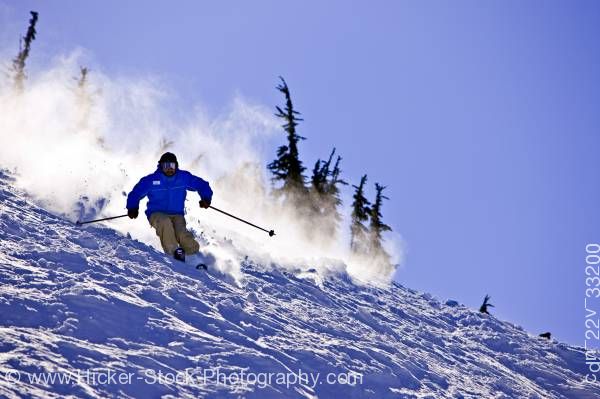 Skier on the upper slopes of Whistler Mountain in Whistler Blackcomb in Whistler British Columbia Canada
Stock Photos from the collection "Zoology Stock Photos"


= click to scroll forwards/backwards
Powder Snow Skier Whistler Mountain Whistler Blackcomb Whistler British Columbia Canada
This stock photo shows a skier on the upper slopes of Whistler Mountain, Whistler Blackcomb, Whistler, British Columbia, Canada. The primary skiing terrain starts about 1/3 up the mountain. A ski-out to the valley is usually possible during the months of December through April. The overall lift capacity, 65,507 skiers per hour, is the greatest in North America, although only slightly greater than Vail Ski Resort in Colorado. Whistler Village, which is part of the Resort Municipality of Whistler, is situated at the base of the Whistler Mountain Village Gondola and Blackcomb Excalibur Gondola. The Village incorporates community services, shops, entertainment venues, restaurants, bars, hotels, condominiums and vacation properties. The Village is 675 m (2,214 ft) above sea level, and is located 137 km (85 miles) from Vancouver International Airport.
Related stock photo search terms for:
Powder Snow Skier Whistler Mountain Whistler Blackcomb Whistler British Columbia Canada
Title
Powder Snow Skier Whistler Mountain Whistler Blackcomb Whistler British Columbia Canada
Stock photo of a skier on the upper slopes of Whistler Mountain, Whistler Blackcomb, Whistler, British Columbia, Canada. This view shows the skier coming down the mountain toward the camera with the snow behind whisked into the air by the skis and a backg
Photographer
Stock photo ID
cdn_22v_33200-ed.jpg - Powder Snow Skier Whistler Mountain Whistler Blackcomb Whistler British Columbia Canada
Country
State
City
Camera Model
Exposure time
1/1250
Aperture
f/5.0
ISO
100
Focus lenght
200mm