Stock photo: View From Roundhouse Lodge Whistler Mountain To Blackcomb Mountain Whistler British Columbia Canada
Stock photo of the view from Roundhouse Lodge on Whislter Mountain looking toward Blackcomb Mountain at the Whislter Blackcomb ski resort in Whistler, British Columbia, Canada. Under a bright blue sky streaked with wispy clouds, both mountains are heavily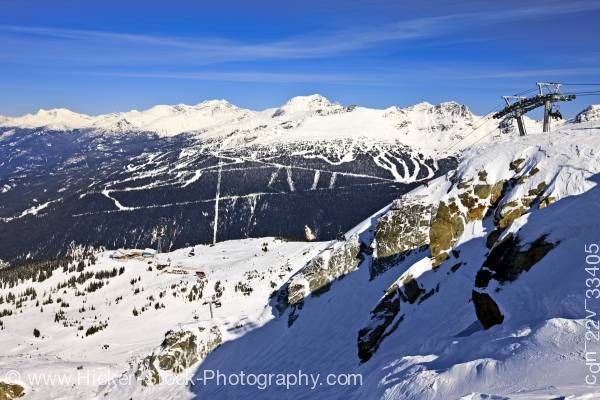 Roundhouse Lodge View Toward Blackcomb Mountain Whistler Mountain Whistler British Columbia Canada
Stock Photos from the collection "Zoology Stock Photos"


= click to scroll forwards/backwards
View From Roundhouse Lodge Whistler Mountain To Blackcomb Mountain Whistler British Columbia Canada
This stock photo shows the view from Roundhouse Lodge on Whistler Mountain with Blackcomb Mountain (2440 metres/8000 feet) in the background, Whistler Blackcomb, Whistler, British Columbia, Canada. On this Winter day the sky is blue and the mountains are loaded with snow. Many individual ski trails are visible on Blackcomb Mountain and a portion of the Peak 2 Peak gondola is seen atop Whislter Mountain. Skiers and riders have the opportunity to easily take advantage of the 8,171 acres of terrain encompassed by both incredible mountains, via the world's longest continuous lift system. Moving freely between the high alpine areas of both mountains skiers and riders will spend more of their day in the best weather and snow conditions. The adventure for summer visitors will include spectacular views of glaciers and peaks as well as access to an expanded hiking trail network on both mountains. With 28 sky cabins each holding up to 28 people, total capacity is 4,100 passengers per hour. The Peak to Peak terminal on Whistler Mountain is located next to the Roundhouse Lodge and easily accessed from the valley by the Village Gondola. On Blackcomb Mountain the Peak to Peak terminal is located next to the Rendezvous Lodge and accessed from the valley via the Wizard Express and Solar Coaster Express.
Related stock photo search terms for:
View From Roundhouse Lodge Whistler Mountain To Blackcomb Mountain Whistler British Columbia Canada
Title
View From Roundhouse Lodge Whistler Mountain To Blackcomb Mountain Whistler British Columbia Canada
Stock photo of the view from Roundhouse Lodge on Whislter Mountain looking toward Blackcomb Mountain at the Whislter Blackcomb ski resort in Whistler, British Columbia, Canada. Under a bright blue sky streaked with wispy clouds, both mountains are heavily
Photographer
Stock photo ID
cdn_22v_33405-ed.jpg - View From Roundhouse Lodge Whistler Mountain To Blackcomb Mountain Whistler British Columbia Canada
Country
State
City
Camera Model
Exposure time
1/250
Aperture
f/7.1
ISO
100
Focus lenght
33mm