Stock photo: Western Red Cedar Tree Pacific Rim National Park Vancouver Island British Columbia Canada
Stock photo of the moss-covered base of a large western redcedar tree (western red cedar), Thuja plicata, along the Rainforest Trail in the coastal rainforest of Pacific Rim National Park, Long Beach Unit, Clayoquot Sound UNESCO Biosphere Reserve, West Co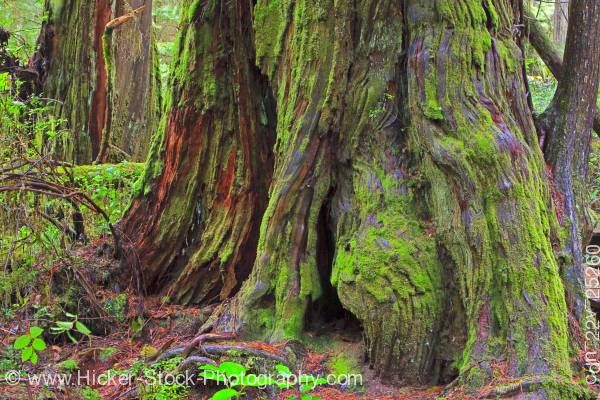 Moss-covered base of a large Western redcedar tree along the Rainforest Trail in the coastal rainforest of Pacific Rim National Park on the west coast of Vancouver Island in British Columbia Canada
Stock Photos from the collection "Atlantic Canada Stock Photos"


= click to scroll forwards/backwards
Western Red Cedar Tree Pacific Rim National Park Vancouver Island British Columbia Canada
This stock photo shows the moss-covered base of a large western redcedar tree (western red cedar), Thuja plicata, along the Rainforest Trail in the coastal rainforest of Pacific Rim National Park, Long Beach Unit, Clayoquot Sound UNESCO Biosphere Reserve, West Coast, Vancouver Island, British Columbia, Canada. The western redcedar is British Columbia's official tree. The name plicata comes from a Greek word meaning "folded in plaits," in reference to the arrangement of the leaves. It is sometimes called arbor-vitae, Latin for "tree of life." Coastal people used all parts of the tree. They used the wood for dugout canoes, house planks, bentwood boxes, clothing, and many tools such as arrow shafts, masks, and paddles. The inner bark made rope, clothing, and baskets. The long arching branches were twisted into rope and baskets. It was also used for many medicines. The wood is naturally durable and light in weight. It is used for house siding and interior paneling as well as outdoor furniture, decking and fencing. Because of its resistance to decay and insect damage, the wood of large, fallen trees remains sound for over 100 years. Even after 100 years, the wood can be salvaged and cut into shakes for roofs.
Related stock photo search terms for:
Western Red Cedar Tree Pacific Rim National Park Vancouver Island British Columbia Canada
Title
Western Red Cedar Tree Pacific Rim National Park Vancouver Island British Columbia Canada
Stock photo of the moss-covered base of a large western redcedar tree (western red cedar), Thuja plicata, along the Rainforest Trail in the coastal rainforest of Pacific Rim National Park, Long Beach Unit, Clayoquot Sound UNESCO Biosphere Reserve, West Co
Scientific Name
Thuja plicata
Photographer
Stock photo ID
cdn_22v_25260-ed.jpg - Western Red Cedar Tree Pacific Rim National Park Vancouver Island British Columbia Canada
Country
State
Camera Model
Exposure time
20/1
Aperture
f/13.0
ISO
100
Focus lenght
70mm