Stock photo: Wickaninnish Interpretive Centre Wickaninnish Bay Pacific Rim National Park British Columbia Canada
Stock photo of the Wickaninnish Interpretive Centre along Wickaninnish Beach against a bright blue sky over Wickaninnish Bay in Pacific Rim National Park, Long Beach Unit, Clayoquot Sound UNESCO Biosphere Reserve, West Coast, Pacific Ocean, Vancouver Isla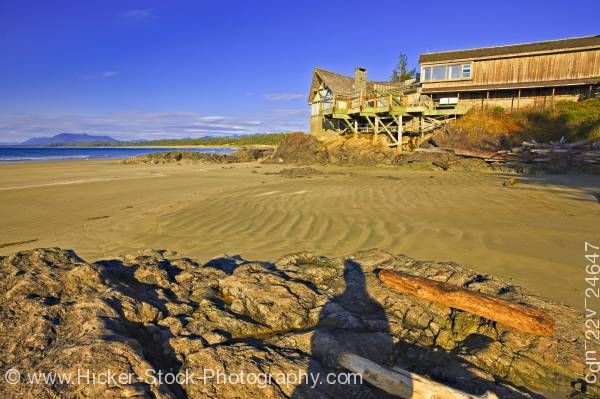 Wickaninnish Interpretive Centre Pacific Rim National Park Vancouver Island British Columbia Canada
Stock Photos from the collection "Structures Stock Photos"


= click to scroll forwards/backwards
Wickaninnish Interpretive Centre Wickaninnish Bay Pacific Rim National Park British Columbia Canada
This stock photo includes the Wickaninnish Interpretive Centre along Wickaninnish Beach on Wickaninnish Bay in Pacific Rim National Park, Long Beach Unit, Clayoquot Sound UNESCO Biosphere Reserve, West Coast, Pacific Ocean, Vancouver Island, British Columbia, Canada.
This is a very sandy section of beach and the interpretive center stands against a sky that is largely bright deep blue, with some cloud cover at the level just above the horizon.
The Wickaninnish Interpretive Centre is perched on the shore of the Pacific ocean at the end of Wick Road, 3.5 km (2.2 mi) from Highway 4. This information centre, interpretive facility, and gift shop focuses on the natural and cultural heritage of Pacific Rim National Park Reserve.
Visitors can enhance their national park experience through exhibits, displays, films, and other events. The Wickaninnish Centre is open mid March to mid October. The Wickaninnish Centre also houses the Wickaninnish Restaurant.
Related stock photo search terms for:
Wickaninnish Interpretive Centre Wickaninnish Bay Pacific Rim National Park British Columbia Canada
Title
Wickaninnish Interpretive Centre Wickaninnish Bay Pacific Rim National Park British Columbia Canada
Stock photo of the Wickaninnish Interpretive Centre along Wickaninnish Beach against a bright blue sky over Wickaninnish Bay in Pacific Rim National Park, Long Beach Unit, Clayoquot Sound UNESCO Biosphere Reserve, West Coast, Pacific Ocean, Vancouver Isla
Photographer
Stock photo ID
cdn_22v_24647-ed.jpg - Wickaninnish Interpretive Centre Wickaninnish Bay Pacific Rim National Park British Columbia Canada
Country
State
Camera Model
Exposure time
1/25
Aperture
f/16.0
ISO
100
Focus lenght
19mm