Stock photo: Downhill Skier Whistler Blackcomb Whistler British Columbia Canada
Stock photo of a skier on the upper slopes of Whistler Mountain, Whistler Blackcomb, Whistler, British Columbia, Canada. A beautiful blue sky and a few evergreen trees provide the background for this skier riding the powdery snow near the top of Whistler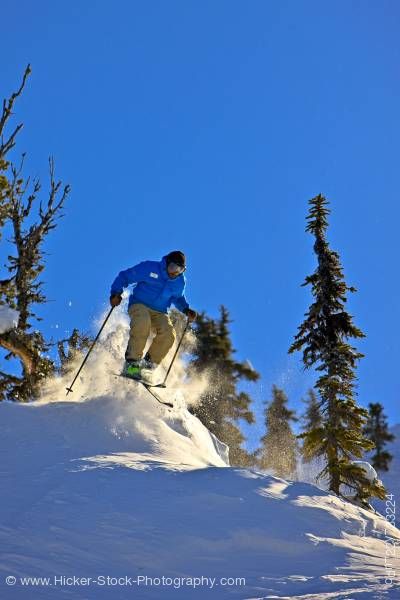 Skier on the upper slopes of Whistler Mountain in Whistler British Columbia Canada
Stock Photos from the collection "Clock Stock Photos"


= click to scroll forwards/backwards
Downhill Skier Whistler Blackcomb Whistler British Columbia Canada
Skier on the upper slopes of Whistler Mountain, Whistler Blackcomb, Whistler, British Columbia, Canada. The mountain forms part of a major ski and snowboard resort. More than 1.1 million people go to Whistler each year. Together, Whistler and Blackcomb form the largest ski area in North America at 8,171 acres (33 km2), 54% larger than that of Vail, the next largest, which has 5,289 acres (21 km2). Both mountains have some of the largest lift-serviced vertical skiing in North America, with Blackcomb having the most at 1,565 m (5,133 ft). Whistler has slightly less vertical at 1,530 m (5,020 ft). The highest lift elevation, on Blackcomb, is 2,240 m (7,349 ft). Whistler Blackcomb will host the alpine skiing events for the 2010 Winter Olympics, including the men's and women's Olympic and Paralympic alpine skiing disciplines of downhill, Super-G, giant slalom, super combined and slalom.
Related stock photo search terms for:
Downhill Skier Whistler Blackcomb Whistler British Columbia Canada
Title
Downhill Skier Whistler Blackcomb Whistler British Columbia Canada
Stock photo of a skier on the upper slopes of Whistler Mountain, Whistler Blackcomb, Whistler, British Columbia, Canada. A beautiful blue sky and a few evergreen trees provide the background for this skier riding the powdery snow near the top of Whistler
Photographer
Stock photo ID
cdn_22v_33224-ed.jpg - Downhill Skier Whistler Blackcomb Whistler British Columbia Canada
Country
State
City
Camera Model
Exposure time
1/1250
Aperture
f/5.0
ISO
100
Focus lenght
175mm