Stock photo: Inukshuk Whistler Olympic Park Nordic Sports Venue Callaghan Valley British Columbia Canada
Stock photo of a Large stone inukshuk - Ilanaaq (the Vancouver 2010 Olympic Winter Games emblem) at the entrance to the Whistler Olympic Park Nordic Sports Venue, with the Olympic Ski Jumps and blue sky in the background, Callaghan Valley, British Columbi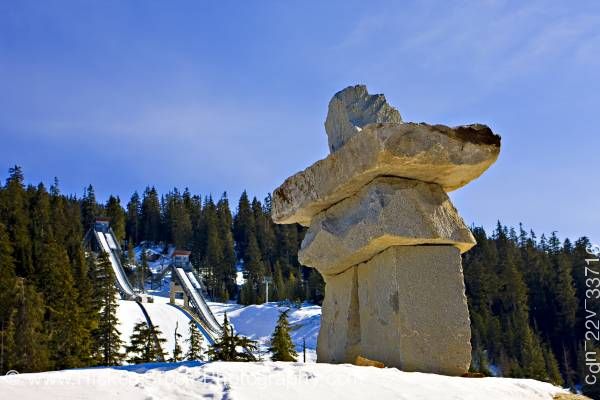 Large stone Inukshuk at the entrance to the Whistler Olympic Park Nordic Sports Venue with the Olympic ski jumps in the background in Callaghan Valley in British Columbia Canada
Stock Photos from the collection "Zoology Stock Photos"


= click to scroll forwards/backwards
Inukshuk Whistler Olympic Park Nordic Sports Venue Callaghan Valley British Columbia Canada
This stock photo includes a large stone inukshuk - Ilanaaq (the Vancouver 2010 Olympic Winter Games emblem) at the entrance to the Whistler Olympic Park Nordic Sports Venue, with the Olympic Ski Jumps in the background, Callaghan Valley, British Columbia, Canada. The Callaghan Valley is a wilderness recreation area in the Sea to Sky Country of southwestern, British Columbia, located in the Pacific Ranges of the Coast Mountains 90 km 1 north of Vancouver. An inukshuk is a man-made stone landmark or cairn, used by the Inuit, Inupiat, Kalaallit, Yupik, and other peoples of the Arctic region of North America, from Alaska to Greenland. This region, above the Arctic Circle, is dominated by the tundra biome, containing areas with few natural landmarks.
Related stock photo search terms for:
Inukshuk Whistler Olympic Park Nordic Sports Venue Callaghan Valley British Columbia Canada
Title
Inukshuk Whistler Olympic Park Nordic Sports Venue Callaghan Valley British Columbia Canada
Stock photo of a Large stone inukshuk - Ilanaaq (the Vancouver 2010 Olympic Winter Games emblem) at the entrance to the Whistler Olympic Park Nordic Sports Venue, with the Olympic Ski Jumps and blue sky in the background, Callaghan Valley, British Columbi
Photographer
Stock photo ID
cdn_22v_33716-ed.jpg - Inukshuk Whistler Olympic Park Nordic Sports Venue Callaghan Valley British Columbia Canada
Country
State
City
Camera Model
Exposure time
1/160
Aperture
f/6.3
ISO
100
Focus lenght
64mm